Better Lives For Our Residents, And Their Families.
Does your parent, spouse or other loved one need memory care or dementia care? Let's talk.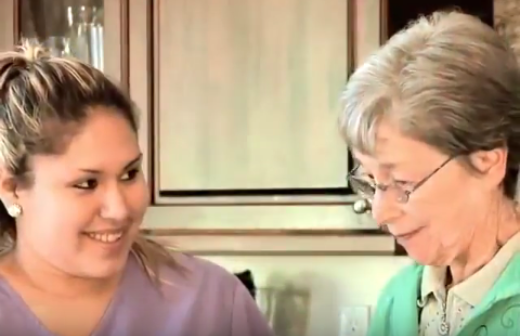 Why Choose Silver Oak?
RN Owned and Operated, Since 2008

Private Bathrooms

3:1 Resident-to- Caregiver Ratio

Familiar, Healthy Foods & Snacks

All-Inclusive Pricing. No Hidden Charges
How long since you've seen your dementia-afflicted parent, spouse or other loved one smile?
If it's been far too long, please keep reading.
Are you:
worried about your loved one's future?
worried about your ability to provide the level of care you desperately want to give them?
afraid they won't have the care and comfort they deserve?
anxious over the toll this situation is taking on your family?
overwhelmed by the thought of getting help, and your desire to make the right move, for everyone?
May I suggest something?
Don't try to do everything today.
Make just one phone call.
Talk to an expert who has specialized in the care of seniors, memory care and dementia-related conditions like Alzheimer's, for decades.
Speak directly with me, and tell me what's happening.
I'm Lorena Eckert, R.N., founder of Silver Oak Country Estates assisted living facility, and lifelong San Diego North County resident.
I started Silver Oak in 2008 with one purpose. To create an assisted living facility in which I'd feel comfortable having my own parents live.
I hear the same thing from nearly every family who brings their loved one to us.
"We wish we'd found Silver Oak sooner."
Many of them are exhausted. There's no other way to say it.
Most families wait far too long before they search for an assisted living facility specializing in memory care.
It's understandable.
Where do you start? Who can you trust? The sleepless nights and stressful living conditions most caregivers experience don't help at all.
If you're still reading, I'm not telling you anything you don't already know.
Well, what if there was a way to raise the quality of life for both your loved one and your family?
What will it take to take the first step?
Please call me directly at 760-415-8216 and let's talk about your situation. No obligation, and I don't do sales pitches.
Let me answer every question you have. About memory care and dementia-related conditions. About Silver Oak, my staff and specifics about the level of care we give here.
If Silver Oak isn't a fit for your situation I will recommend other facilities in North County for your loved one.
If you'd like to get your loved one on our waiting list while you talk it over with your family, we can do that too.
So call me today at 760-415-8216, or leave your first name and a number or email in the form below. I will get back to you personally.
Take a small step today.
It just might be huge progress toward the quality of life your loved one, your family and you deserve.
Get your free consultation with Silver Oak Country Estates Owner Lorena Eckert, R.N.